Note: Because of all the personal attention included, this offer is only good
for the first 75 people responding.
How to Be a Great Contract Trainer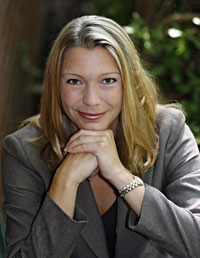 Stefanie Coleman
In three recorded teleclasses, training industry veteran Stefanie Coleman shares detailed and candid insights into the realities and many untapped benefits of life on the road speaking for a seminar company.
This fast-paced and extremely informative course gives you everything you need to be highly successful as a contract trainer.

Whether you are an experienced trainer looking for ways to improve evaluations and decrease your stress level, or a new trainer that wants to hit the ground running, Stefanie's insider's look at travel, training and hotel issues will bring you tremendous benefits.
This course is for you if:
You are in any business that involves travel,

You do training or speaking....or want to,

You do any of your work in hotels and conference centers.
PLUS . . . Since you're in this business you certainly want to maximize all the travel perks you can get. Stefanie will show you how to get the best bang for your buck from frequent flyer miles, hotel points, and combined leisure travel.
Training is Exploding
Organizations all over the world are spending fortunes with training companies who hire you and people like you.. These companies need you! If you do a great job for them, you can pretty much work as much or as little as you want. . . .
The question is, "Are you making life easy on yourself and at the same time maximizing all your perks?"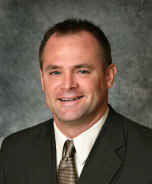 "The 'How to Be a Great Contract Trainer' program has allowed me to avoid the pitfalls that those without Stefanie's wisdom and insight would, unfortunately, have to learn about the hard way. More importantly, it has been a key component of commonly seeing '10's' on my evaluation forms. Ultimately, this program has significantly reduced my stress, made me a more effective trainer, and put more money in my pocket!"

Vincent Harris
Are you doing a "great" job of . . .
Working in large fee keynote speeches around your training schedule?

Getting the most of your frequent flyer miles and hotel points?

Packing efficiently and quickly?

Structuring your day for maximum effectiveness and high evaluations?

Preventing burnout from long training days and tough travel schedules?

Reducing bad surprises in your hotel meeting rooms?

Saving money when you're on the road?
AND (as long as you aren't a pain in the neck) your training company
doesn't care if . . .
You stay extra days to enjoy yourself

Bring your spouse or significant other with you

You use your points to upgrade to the presidential suite
Check out what you'll learn on these fantastic CDs
CD 1: The Truth About Travel… Trials and Tribulations…Tools and Techniques

You will learn:
Creative ways to connect work with leisure travel… Why not let the big companies foot the bill for your fun on the road and the best part is, they don't mind.

How to earn as much free travel as possible… Maximizing points, miles and free rentals so that your work travel pays for your leisure travel.

How to prevent burnout… Stay fresh and alert for long days of training.

Efficient packing techniques… Having only carry-on luggage means more flexibility in times of delayed and canceled flights.

How to pack quickly without leaving things behind… Don't arrive at your destination missing important items.

Whether to fly or to drive… Choose the best option for your needs.

Tips for staying healthy while on the road… Don't let your work schedule ruin all your good intentions.

And much more ….

CD 2: Training Tips and Techniques

You will learn:
8 ways to prepare a new topic… Look like an expert your first time out.

10 tips for dealing with stage fright… Don't let them see you sweat.

The best strategy for dealing with questions you can't answer… Maintain credibility.

How to handle challenging participants… Regain control without losing face.

6 methods for keeping people awake and involved for 6 hours… Interactive techniques are easy if you know what to do.

What to do if you mess up terribly… Using humor to save face.

Why it's better not to be too polished or perfect… You don't have to be a super keynote speaker to make money in this field.

How to structure your day for maximum effect… Get high evaluations because you really got the training through.

And much, much more...

CD 3: Hotel Highlights and Hassles

You will learn:
How to deal with the high prices of hotel extras… Save money while on the road.

What to consider when requesting a room… Make sure you are well-rested.

The best time to check seminar room setup… Avoid surprises and prevent stress.

Popular conference room layouts… Keep your participants comfortable and engaged.

How to keep the hotel staff on your side… That's where you'll need them in challenging situations.

The 10 most popular set-up problems… Anticipate and prevent when possible.

How to deal with set-up problems quickly… Don't let them reflect on the quality of your training.

And, of course much, much more . . .
CD 4: All the MP3 Files
You'll be able to use these files in your IPOD or MP3 Player

The travel tips alone make this recorded seminar worth more than
the price of the course!
You'll get all the recordings PLUS you'll have all your questions answered by Stefanie on your own personal one-on-one time with her on the phone.
Comprehensive Handout Material
Included with your set is a bound point-by-point study guide
that includes everything Stefanie covers on the CDs.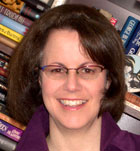 "Thank you so much for the terrifically informative teleclass tonight and a great group of sessions overall. I have copious pages of notes to which I'll be sure to add when I listen to the recordings again (and again!). Your content is solid and it's nice to hear about the solutions for the problems, not just the problems.
Thanks again for sharing your wisdom and experience."

Sheila MacLeod
Hired Pen
http://www.hiredpen.ca

Have you studied your trade extensively, or do you just do your job?
Trainers who have been on the road for years don't know many of the secrets that Stefanie reveals in this course. To learn this information on your own you would have had to make a serious study of all the tricks of the trade for several years.
Most trainers are so exhausted at the end of the day all they can think about is getting home. Stefanie decided there must be a better way and she set out to find it. The results of her years of observation and experience will save and make you tons of time and money and get you perks you never knew were coming to you.
Don't let the training business eat you alive!

Although extremely rewarding, this is certainly not an easy way to make a living. While the benefits of a career in contract training certainly outweigh the drawbacks, there are days when you feel that the airlines, hotels, banquet staff and participants have all conspired to make your life miserable. Stefanie's very detailed insights and resourceful problem-solving techniques will help you avoid many of the road blocks that can trip up even the best of trainers.
So who is Stefanie?
Stefanie is a former tour director and public relations executive who has spent the past 7 years contracting to an international training company. This has kept her on the road an average of 120 days per year. She has presented both public and on-site seminars on a variety of topics to over 20,000 people in 8 countries and on 3 continents. She knows what she's talking about!
For a limited time only this set comes with. . .
Bonus 1: Stefanie's original companion CD "Everything You Wanted to Know About Working for a Seminar Company . . . but were afraid to ask". This CD covers all the details of finding and impressing a seminar company.
Bonus 2: After listening to the recordings you'll get three fabulous thirty minute consultations with Stefanie (a $240.00 value) . . . You'll get one-on-one attention and all your questions answered.
Bonus 3: A Website Critique by Tom Antion (a $500.00 value). This can be used any time you are ready.
Bonus 4: Video demo critique by Stefanie. You may not have one now, but you probably will in the future so there is a great value in having an experienced set of eyes evaluating your video before you submit it. Stefanie will carefully watch 20 minutes of your video and make specific recommendations for improvement. ($250.00 value)
Bonus 5: Unique CD by Stefanie "How to Make Money and Travel the World as a Tour Guide" ($29.95 value) which shows you yet another way to make money speaking.
Sign up right now and you'll get:
Three comprehensive recorded teleclasses

The recordings both in MP3 for your IPOD, MP3 Player or Computer and the CD for your Car or Stereo

A Bonus Website Critique by Tom Antion (value $500.00)

A Bonus Video demo Critique by Stefanie (value $250.00)

Three personal Bonus phone calls with Stefanie to answer all your questions. (value $240.00)

Comprehensive study guide

And two bonus CDs
Over $1200.00 worth of value for only $197.00
Click here to become a GREAT contract trainer
Is this course worth it?
Look at it this way. Just one of the travel tips could mean an entire vacation for you and your family. Just one of the performance tips could mean higher evaluations which will get you booked over and over again. Just one of the hotel tips could save you thousands of dollars per year. . . . And guess what . . . there are boatloads of tips in this course.
PLUS
you'll get tons of tricks of saving money on personal extras and dealing with the details of sleeping rooms, meeting room setup and audio-visual stuff.
Click here to maximize your training career

You can't lose with our 100% satisfaction guarantee!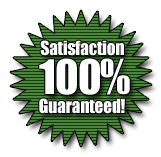 Listen to the training. Talk to Stefanie on the phone. Try out the techniques for 90 days and if after that time you think the ideas she teaches aren't making you more money, getting you more perks and travel benefits and making your training life easier, just return everything in salable condition and we'll issue you a prompt refund.
Click here to start getting super evaluation and lots of perks
Copyright © 2009 Antion & Associates