Tom Antion AKA "Mr Colorful"
Speaking Resume (immediately below)
---
Professional Entertainer and Speaker Since 1988 -- Over 3000 paid presentations
Featured in The Washington Post (four times), The Washington Times, Associated Press, Woman's World Magazine, Insight Magazine, Roll Call (magazine of US Congress) along with many other regional newspapers and periodicals.
Featured on the Canadian Broadcast Network, Australian Broadcast Network, Tokyo Today Show, MSNBC plus many other radio and television stations nationwide.
Tom was the chief spokesperson for CBS Switchboard.com, one of the most heavily visited websites in the world, in their small business outreach program Main Streets Online.
Past President of the National Capital Area Professional Speakers Association 96-97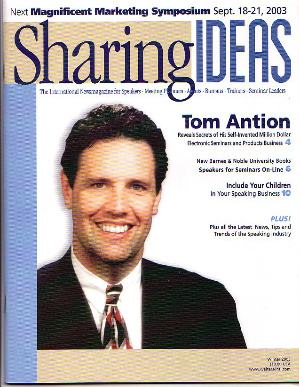 Major Speaking Clients include:
Chicken Soup for the Soul MEGA Seminar Series, Freedom Builders National Tour, Maximizing Success Summit, Kodak, Hallmark Cards, Wharton Business School Club, Blue Cross/Blue Shield, Choice Hotels International, John Wanamaker Department Stores, Booz-Allen Hamilton, Tourism Authority of Thailand, Connected International Meeting Professionals, Washington Metropolitan Area Transit Authority, Washington Association financial Management Roundtable, National Association of Professional Saleswomen, North American Retail Dealers Association, Geico Insurance, Mt. Vernon Printing, Home of the Brave Foundation, International Operators Council, National Electronic Service Dealers Association, National Association of Service Dealers, Horizon Health Care Management, ADVO, and many others.
Honors:
Chosen out of 70 candidates to represent the Washington, DC area at the National Speakers Association 1994 Annual Convention. Asked to speak at 1995 National Convention in Minneapolis, MN and the 1998 Winter Workshop in Norfolk, VA. 2000 Winter Workshop, Burbank CA, , 2001 Winter Workshops Chicago, San Francisco, Mega Monday Featured Presenter NSA National Convention 2002, Keynote, National Speakers Association Australia, Sydney, 2003, Keynote European Speakers Association, London 2004, Keynote at the Global Speakers Summit, Singapore, 2005, Keynote Maylaysian Speakers Association, Kuala Lumpur 2005, PLUS over 100 NSA chapter events around the country and in Canada.
Chosen as the featured presenter at the Meeting Professional International Retreat Ottawa, Canada, and their All-California Conference.
2000 Toastmasters District 31 Communication & Leadership Award for (Given to Non-Toastmasters showing exceptional skills)
Tom feels this was his biggest honor: Keynote speaker at the 50th Anniversary of the US Airforce Spokesperson Division
Author:
The Ultimate Guide to Electronic Marketing for Small Business, John Wiley & Sons To read about it click here
Wake 'em Up Video Professional Speaking System "To read about it click here"
Make 'em Laugh: How to Use Humor in Business Presentations--a 4 1/2 hour audio tape program

Wake 'em Up Business Presentations "To read about it click here"
Numerous Published articles on humor in business and public speaking.
Click: The Ultimate Guide to Electronic Marketing for Speakers To read about it click here
Electronic Marketing Multi-Media Butt Camp on CD "To read about it click here"
ButtCamp Audio CDs To read about the CDs click here
Hundreds of other Books, Ebooks, CD's, DVD's and training materials.

Twenty-Two things you probably didn't know about Tom Antion
Tom has never had a job. For the past 44 years he has owned his own business.

Starting from scratch Tom owned 5 apartment buildings and a hotel BEFORE he graduated from college.

Tom owned and operated the second largest nightclub in the State of West Virginia.

Tom survived two gun fights, a knife fight, and over 100 serious altercations with bikers trying to kill him in the nightclub business.

Tom lost $400,000.00 in the nightclub business when the drinking age went from 18 to 21.

Tom refused to go bankrupt and paid off all creditors as he recovered from the nightclub loss and started an internationally known entertainment company.

Tom survived a car running through his living room.

Tom owned a small print shop.

Tom owned a video production company.

Tom has appeared in National television commercials.

Tom was a professional pilot for two years.

Tom was Valedictorian of his high school.

Tom was one of seven recipients of an award from the
National Football Foundation and Hall of Fame for top
student athletes of 1973.

Tom went to a major college on a football scholarship
and was a starting guard for two years.

Tom made it to the State Championship in Wrestling.

Tom is a 3.5 tennis player.

Tom was a columnist for several national print and Internet based publications.

Tom is a professional member of : National Speakers Association (Pres. 96-97 of the National Capital Area Chapter)

He's a self-defense expert http://www.BrutalSelfDefense.com

After being disgusted with all the ripoffs in the seminar industry Tom Developed http://www.ScamBrigade.com (see trailer) and http://www.SeminarScammers.com . ScamBrigade is with Brian Graden Productions in Hollywood currently being pitched to the networks. Note: Brian Graden was past president of MTV and has many hit shows. Also see article http://www.Antion.com/top20seminarscams.htm

Tom is currently working on http://www.TheDeplorables.TV The Voice of Common Sense in America

Tom hit multimillionaire status approximately 17 years ago.

Represented by Haber Entertainment
Beverly Hills

Want more info? Visit http://www.GreatInternetMarketing.com/media

back